Camp Scholarships at Bethany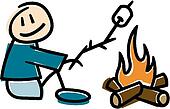 Bethany Chapel has a long and exciting tradition of sending kids to Christian camps in the summer. Each year, we send many kids to camp by organizing a camp scholarship project through our kids programs: Sunday School, Celebration, Tribe and BLS. Children and teens who meet the criteria for the scholarship are sent to camp by Bethany. Kids have gone to a variety of summer camps; most Bethany kids choose Joy Bible Camp near Bancroft or Mini-Yo-We near Port Sydney.
All camp projects are due on Sunday, April 27.
If you have any questions, please contact your child's Sunday School teachers.
For more information about the specific project for each class, click on the links below.
Teen Class (Ian and Margie Stuart): click here to download a PDF version of the project this year.